" We often forget that WE ARE NATURE." Andy Goldsworthy
Nature Art
Nature is a great provider of both naturally occurring art, and materials with which to create our own art.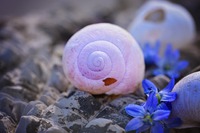 Get fully immersed in nature with this practical nature art session. During these sessions children will be introduced to the natural beauty of their surroundings, and will be using natural materials to create their own art.
Participants will forage for local resources which will then be used in an art project. We will use wood, leaves, flowers and anything else nature is willing to provide to either make something to take home, or to create a piece which will be returned to nature at the end of the session.
Exploring the concepts of leave no trace and respect for nature, children will gain a new appreciation for the the environment and their surroundings whilst getting closer to nature through art.

Contact us for more information or to arrange booking.