"Play is the work of the child" Maria Montessori
Nature Club
Get connected to nature through games, crafts, stories and fun in these outdoor sessions.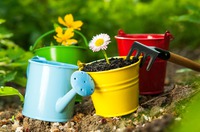 Nature Club can run as a classtime activity, as part of SESE, SPHE, Art, or almost any other curricular subject, or as an after-school activity.

Sessions run for an hour to an hour and a half.
A single session or a series of sessions, either consecutive or spaced throughout the seasons, may be booked. Sessions can be tailored to suit the individual needs of the group.
Sessions usually take place on the school or organisation's own outdoor space, however other arrangements can be made.
Contact us for more information or to book.
Nature Club is all about connecting with nature and learning about the environment through play. Children will be introduced to a wide range of activities, and encouraged to explore the hidden depths and the wide open spaces that surround them.
Activities include den building, animal tracking, woodcrafts, gardening, bug hunts, wildlife spotting and using natural dyes. Using all their senses, children learn to cultivate their curiosity about the natural world, and to value their environment.